Meeting of IIIT East and South Earth Asia at Phnom Penh hotel, Cambodia.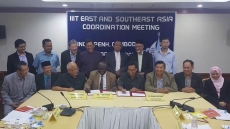 On 03
rd
February 2017 morning, representative of IIIT Cambodia &also CMIA that H.E Hosen Mohamad Farid as a chairman and representative has conducted coordination meeting of IIIT East and South East Asia at Phnom Penh hotel, Cambodia. In this important meeting of IIIT have attended by members of IIIT East Asia. There are: representative IIIT of Philippine, Indonesia, China, Japan, Malaysia, South Korea, Brunei, Uganda, Thailand and Cambodia. And also on 05
th
February 2017 IIIT which has head office in United State of America. Representative by PhD. Omaka Soly as a secretary signed MOU with CMIA Cambodia on the many projects of education development, Islamic teacher training, Book translation, philosophy and collaboration of community of development too that have attended as the witness by H.E Ahmad Yahya, Secretary of state of MOSVY and Dato.Yamil Ousman, Chairman IIIT of East Asia.
IIIT is international organization had donated scholarship for Khmer Islam students have ability to study BA, Master and PhDs many places in Malaysia and anyway for Cambodia IIIT has supported fund for book translation project too.