Chairman of CMIA Cambodia visited field office of Rahma International Cambodia in Phnom Penh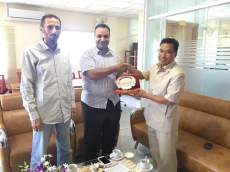 On 18th January, 2017 morning H.E Hosen Mohamad Farid, Adviser of Ministry of Cult and Religious and also chairman of CMIA Cambodia have visited field office of Rahma International of Cambodia in Ressey Keo, Phnom Penh. This important visit was warm welcomed by Mr.Wael,
Representative and also with Mr. Ahmed Mohamed Sultan, Education Manager of Rahma International in Cambodia.
Both of two organization leader have discussed and shared experience around the topic Muslim Community development. Especially education for Cambodian Muslim community that it is the priority and main basic which be able help to cut down property among Muslim people in Cambodia.