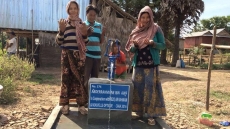 During March to June last year 2016. Depend on much request from Muslim Community. H.E Husen Mohamed Farid, Chairman of CMIA has try to find the donors for support dig well and small hand well to those Muslim Community in Cambodia .In collaboration with
NOUVELLE OPTIQUE of France
have supported around 400 wells for poor Muslim families who faced challenge with water shortage in many province which there are:
Kampong Cham, Kampong Thom, Thboung Khmoum and Kampong Chhnang province.
CMIA as the dig well project implement organization have good collaborate with authority and Muslim community leader for select the real poor Muslim family that they are facing with shortage clean water for daily using and also for water vegetable around their houses.
After around 400 families have received new water well
now day both of them are
more easier than before because they have water well nearby not much far and spend much time to carry water for house using previously and also especially they have ability to earn money more for daily by grow vegetable around there houses.